URGENT!
We MUST let Israel know they are not alone!
I am in Israel as your ambassador bringing hope and help to the suffering people here. We are working on the front lines near the Gaza border even as rockets and missiles continue to be fired into the country. This is our "such a time as this" moment, and we can't miss it. The people of Israel MUST hear from us right now to know they are not alone.
Please pray…and please reach out in love to those affected with your most generous gift.
More than 1,000 Jewish people have been killed and thousands more injured in these massive attacks from Hamas. The terror group, sponsored and trained and funded and equipped by Iran, makes no secret of their goal—they deny the right of a Jewish state to even exist. Thousands of rockets were fired into Israel without warning, overwhelming the Iron Dome missile defense system. Armed Hamas gunman crossed the border to kill and kidnap Jewish people in their homes. This outrageous attack demands a response from us…and we must not forget that while the scale of this attack is unusual, the goal to kill Jewish men, women, and children is not.
Terrorist attacks are a daily occurrence in Israel. What I have seen over the past few days is heartbreaking beyond belief. The people of Israel are struggling to deal with this shocking assault. There are physical, mental, emotional, and spiritual wounds from these attacks, and someone needs to step up and make a difference for the survivors. That's why we have our Rapid Response Team in place on the ground in Israel…and because we do have that team, we can start helping right away.
With your help, we can provide these Israeli victims of the recent terrorist attacks with housing, food, professional trauma counseling, and so much more.
– Mike Evans
From your Friends of Zion Center in Jerusalem the Rapid Response Team reaches out to families who have suffered terrorist attacks like the latest massive attack from Hamas that had such devastating impact. We provide immediate humanitarian support, and help with the expenses that are often so great. We host events at FOZ to honor the victims and survivors, and let them know they are not alone. And we tell the truth about what is happening that the liberal media wants to ignore or lie about.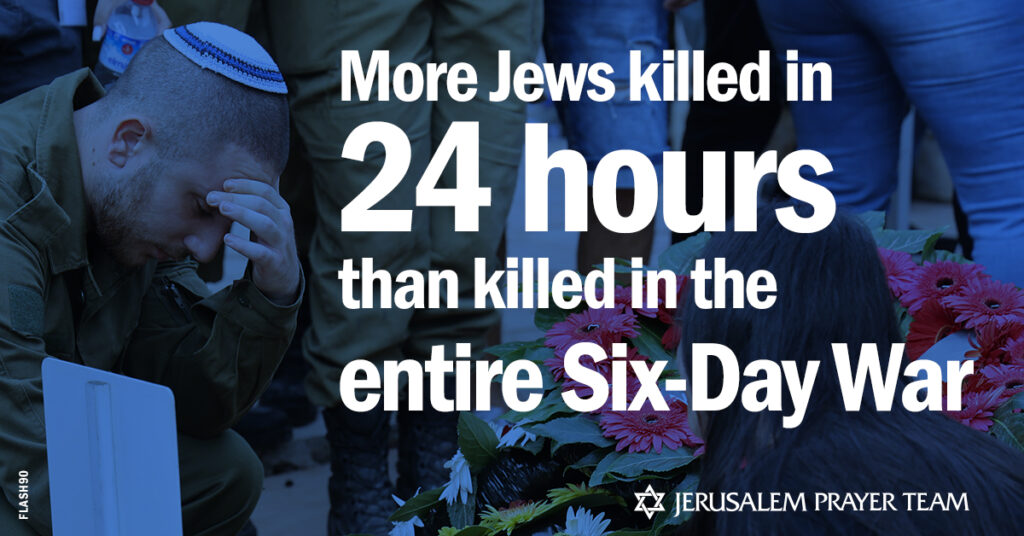 All of this is possible because friends like you have made the decision to stand with the Jewish people as part of our Rapid Response Team. Because we have full time staff on the ground in Israel we are able to respond immediately when there is a terrorist attack. We do not have to wait…but we do need your help right now. Thanks to our partners, we are able to show true Christian love in action—something many Jewish people have never seen before.
This is just one of the ways the Jerusalem Prayer Team is blessing and defending God's Chosen People. We deliver food to thousands of poor Holocaust survivors each week. We help meet the urgent needs of Jewish widows and orphans. We hold bar and bat mitzvahs for Holocaust survivors who weren't able to have them as children because of the war. The list goes on and on…and together we are shining a bright light of Christian love across Israel and around the world.

Your ambassador to Jerusalem,

Dr. Mike Evans
An account is optional but recommended.
Creating an account lets you manage your information, view past donations and orders, and access tools like year-end statements and more.